The Advantages of using Wooden Flooring in your Home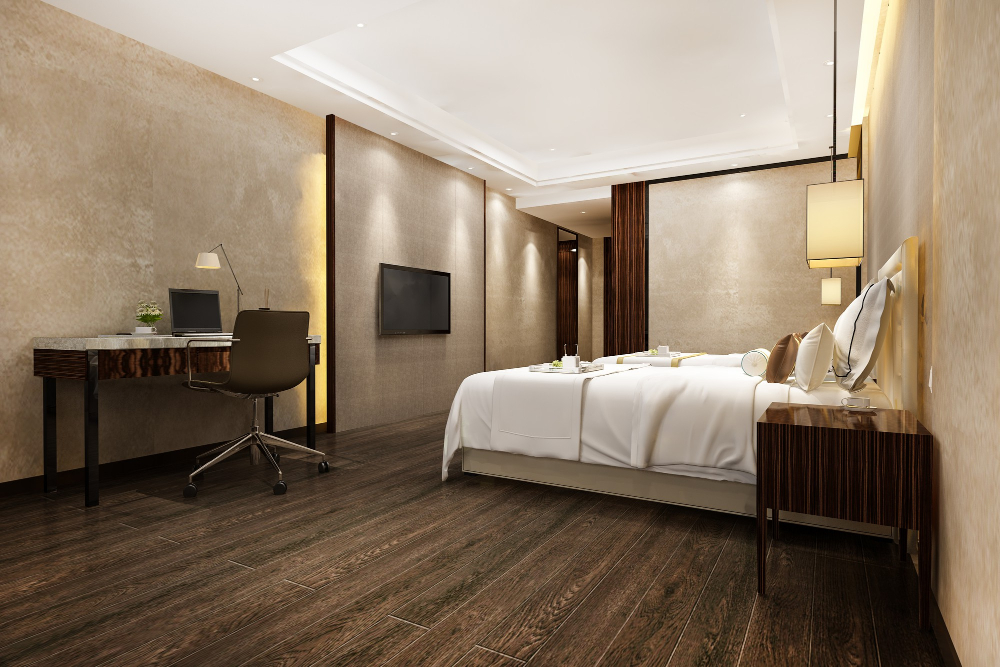 Wood flooring is a classic choice because it lasts long, looks great, and doesn't break the bank. People fantasy of one day owning a home with hardwood floors are inspired by wood's natural beauty and cosiness.
You're drawn to this type of flooring because of the inherent sophistication it embodies. There are many flooring options available today that can compete with the timeless elegance of wood. However, wooden accents add a touch of class to any room they are placed in.
Wood flooring is the best choice if you want a timeless look that complements any design scheme. It adds a great deal of charm and personality to houses of all architectural styles. Wood flooring is a reliable and stylish option for any building, whether an office or home.
The Many Benefits of Hardwood Floors
While the initial outlay may be higher than average, it should last you for many decades if you take good care of it. But regular carpet, linoleum, and laminate floors wear out quickly and must be replaced. A few of the many advantages of hardwood flooring are listed below.
An investment for a long time
A well-maintained wood floor can last for more than a century. They may seem expensive initially, but unlike other flooring options, they will only need to be replaced in 10 to 20 years. As the value of hardwood floors rises over time, this is a good long-term investment.
When deciding on a flooring style, it's essential to keep your finances in mind. But nowadays, you can find both high-end and budget wood flooring options. Wooden floors are an investment that will pay off in the long run because of their durability and the value they add to your home.
A wide variety of options are available to you when choosing wood flooring. Choose one that works best with your finances and schedule. That not a single board is the same colour or tone adds to its naturalism and rustic charm while also elevating its aesthetic value. If you get tired of the original colour, you can permanently stain them. Woods can be mixed and matched to create a unique appearance for the flooring.
In contrast to carpet and vinyl, wood flooring can be refurbished by refinishing or resending rather than being replaced after a certain amount of time. This helps restore the flooring to its previous condition while preserving its shine and finish. Wooden floors age more gracefully and are more durable than other materials.
Hardwood floors always stay in style because of their classic good looks and durability. You can rest assured that you will save a substantial amount of time and money because this practice has been common in homes for quite some time.
Convenient Cleaning and Upkeep
Keeping the wooden floors in good condition requires regular vacuuming, mopping, and drying. Wooden floors are non-electromagnetic, so they don't attract as much dust, dirt, and other particles as other flooring options.
Hardwood floors are beautiful and durable and hardly show any wear and tear from everyday use. With wooden flooring, you may not have to worry about the musty, unpleasant smell that often permeates pet owners' homes due to accidents on the carpet.
Wooden floors are impervious to parasites like fleas, dust mites, and mould spores. They work to keep allergens like mould spores and pet dander from settling in your home. As a result, there is less of a potential for injury in the house than there would be with other flooring types.
Doctors often recommend wooden floors to allergy sufferers, and this is especially true in households with children. Because it is hypoallergenic and doesn't retain odours, it's a good option for people with asthma and other allergies. A beautiful wooden floor allows underfloor heating to be installed, which is a convenient and efficient method of keeping a home warm.
Wooden floors are a standard option for children's bedrooms. Babies who have recently learned to crawl benefit most from its non-toxic nature and lack of danger. When exposed to wood flooring, children's motor skills improve.
Wooden floors are superior to other options because they are so easy to care for. Floor scratches can be sanded and painted over. Wooden floors are popular among households with children because carpets can easily conceal toys and other small items.
Hardwood floors are impervious to noise and other forms of vibration. Wood flooring is great if you don't have a noisy workplace, but it can make your office sound like a cafeteria if you do. However, those who appreciate music or have children who play instruments will benefit from the lack of hollowness in the sound.
As the best organic flooring option, hardwood has been growing in popularity. Wood flooring is an excellent choice if you're concerned about environmental impact. The use of wood flooring is an essential step toward creating a greener, more sustainable home. There is a low toxicity level, and it is simple to clean and maintain.
Conclusion
When it comes time to replace your flooring, there are many reasons why solid hardwoods should be at the top of your list. It's easier to go right with solid hardwood flooring if you're looking for something that will last for decades, look great forever, be simple to maintain, and increase your home's value.